What is automation to us?
Automation means to implement new mechanical, electronic and ICT technologies in our company that can help us control the production processes and both material and information flows.
In this automation process, the operator takes a new role: labour is reduced and the operator is given additional responsibility in production process management and in quality control.
For instance. The operator involved in the cutting process may be asked to check whether slab scraps are minimised and, if they are not, to put forward a solution to reduce them. Another example may be having operations like workpiece lifting and handling, or workpiece palletization performed by a robot system.
At the same time, the production flows may be managed via a built-in software system with a view to optimising processes. Using a machine to perform operations that are normally made by workers is a solution at hand for all businesses.
Enhanced planning and organization of work processes
Automation means planning and organising the work tasks at best, with a view to cutting costs and improving production efficiency.
Reduced number of required operators / improvement of work environment
Automation means sensitive reduction of the number of operators required to perform the different work tasks, but more importantly it means improving the work environment.
Reduced material breakage caused by manual handling
Automated production reduces the costs and inconveniences caused by manual piece handling.
Repeatability of product quality over time
Automation means maintaining the desired product quality over time.
Recoverable material management
Automation also simplifies management of recoverable materials in that it maximises use of available materials through, for instance, labelling.
Automation also means management of all production scraps in an easy and functional manner.
Donatoni Group has chosen to develop automation systems with a view to helping our customers on their way to transformation.
The experience acquired by Donatoni Group with numerical control machines and anthropomorphic robots is key to meeting even the most demanding requirements of our customers.
We offer a full service which starts from customers' needs analysis, includes the definition of goals, and ends with the implementation of a fully customised automation project.
Donatoni manufactures installations and automatic loading, unloading and palletising systems that are incorporated into bridge milling machines or cutting lines, e.g. SX and Belt series; we also develop production lines and automation solutions for manual processes, which can also be incorporated in existing installations, upon request.
The unloading system in cutting machines is the heart of our automation solutions.
Line featuring a palletising robot
Specific line for kitchens
Line with palletising robot for utmost versatility and flexibility
DONATONI ARM 1 is designed to offer unparalleled efficiency when palletising multi-size ceramic and other tiles, claddings, and much more. The robot is equipped with a single gripper head that can manage production quickly and accurately.
Our advanced technology is designed for direct picking from and palletisation in multiple stations, thus providing for optimised work flow management. For enhanced system versatility, we also offer an optional robot tracking axis which easily adapts to the different production requirements.
DONATONI ARM 1 will help you achieve a higher level of automation and precision in your palletisation process. DONATONI is ready to assist you in improving the efficiency and productivity of your company with state-of-the-art solutions.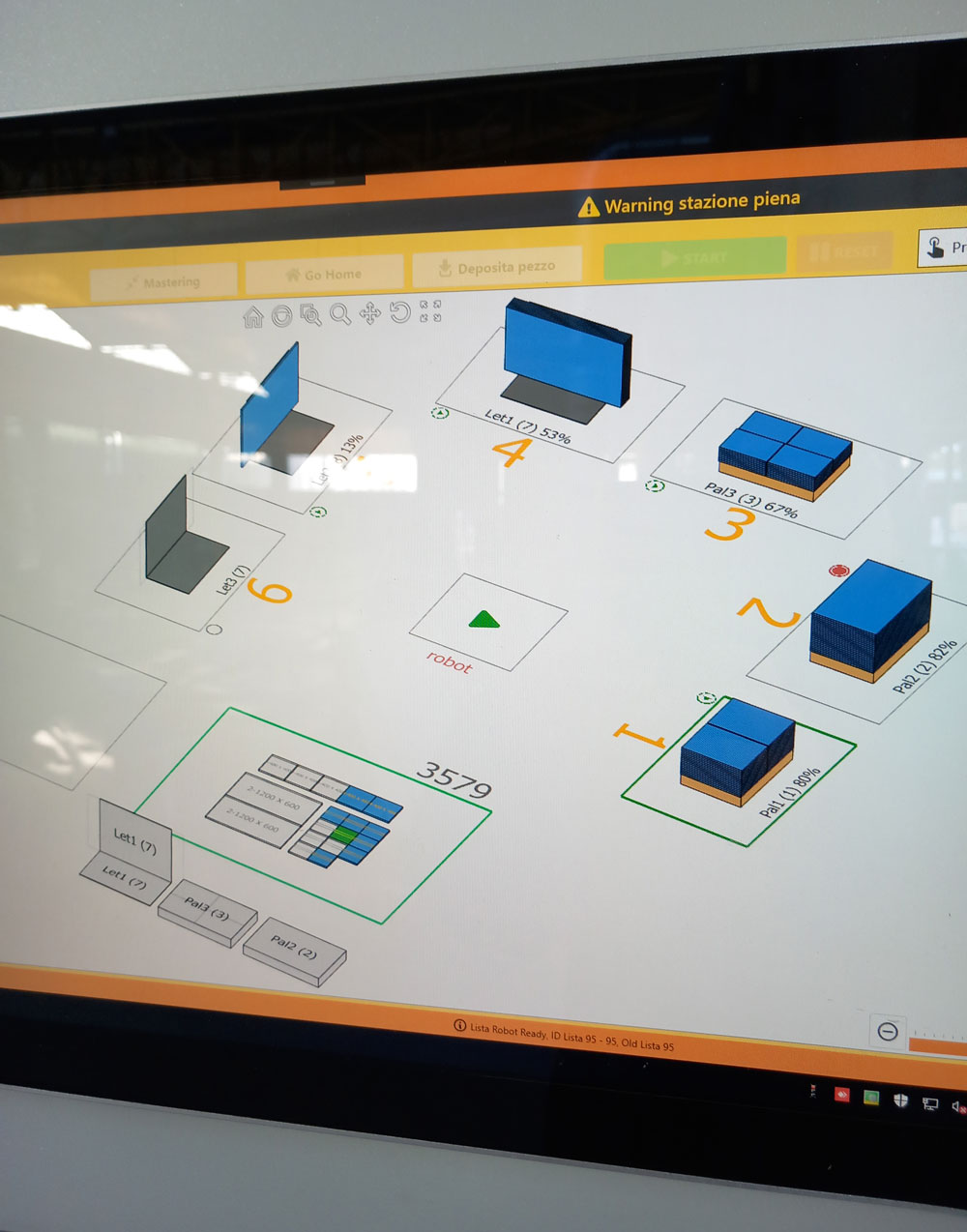 DONATONI ARM 2 is a high productivity line, fitted with roller conveyors and a palletising robot, intended for businesses that manufacture single-size ceramic and other tiles.
The ARM 2 line is specifically designed for high levels of productivity and efficiency in the palletising process. The built-in roller conveyors help control the flow of products in a smooth and continuous manner, thus optimising the machining time.
The palletising robot is the heart of the system: it is equipped with a multi-piece gripper that picks multiple pieces at a time. This feature makes the palletising process quick and accurate; it also reduces downtimes and increases productivity overall.
The roller conveyors are supplied with housings to fit any optional equipment the customer may need to install to meet a variety of production requirements. Optional equipment includes drying systems, quality control units, defective piece ejection and piece marking systems. These extra options help maximise machining quality and optimise the production process.
DONATONI ARM 2 is a comprehensive and highly efficient solution for the palletisation of single-size ceramic and other tiles. Incorporate our cutting-edge technology in your production line for higher performance levels!
Specific line for kitchens
DONATONI ARM 3 is a specific line designed for the manufacture of kitchens which is optimised to manufacture all kinds of industry-specific pieces, i.e. countertops, kitchen islands, connection tables, raisers, and reusable slab scraps. All aspects of the machining process have been carefully studied to offer our customers a highly efficient and versatile system.
ARM 3 enables easy control of the various parts making up kitchens, including countertops, kitchen islands, connection tables, raisers, and reusable slab scraps. DONATONI advanced technology and our smart systems are designed for customers to be able to optimise their work flows, reducing the production times and maximizing overall efficiency.
No matter what the workpiece size or specifications, ARM 3 can handle them with precision and accuracy. Customers can rely on a smooth and consistent production process for high quality results.
DONATONI ARM 3 is a system specifically designed to meet the actual needs of the kitchen manufacturing industry. It helps achieve high levels in terms of production line efficiency and precision, and the output product is of utmost quality.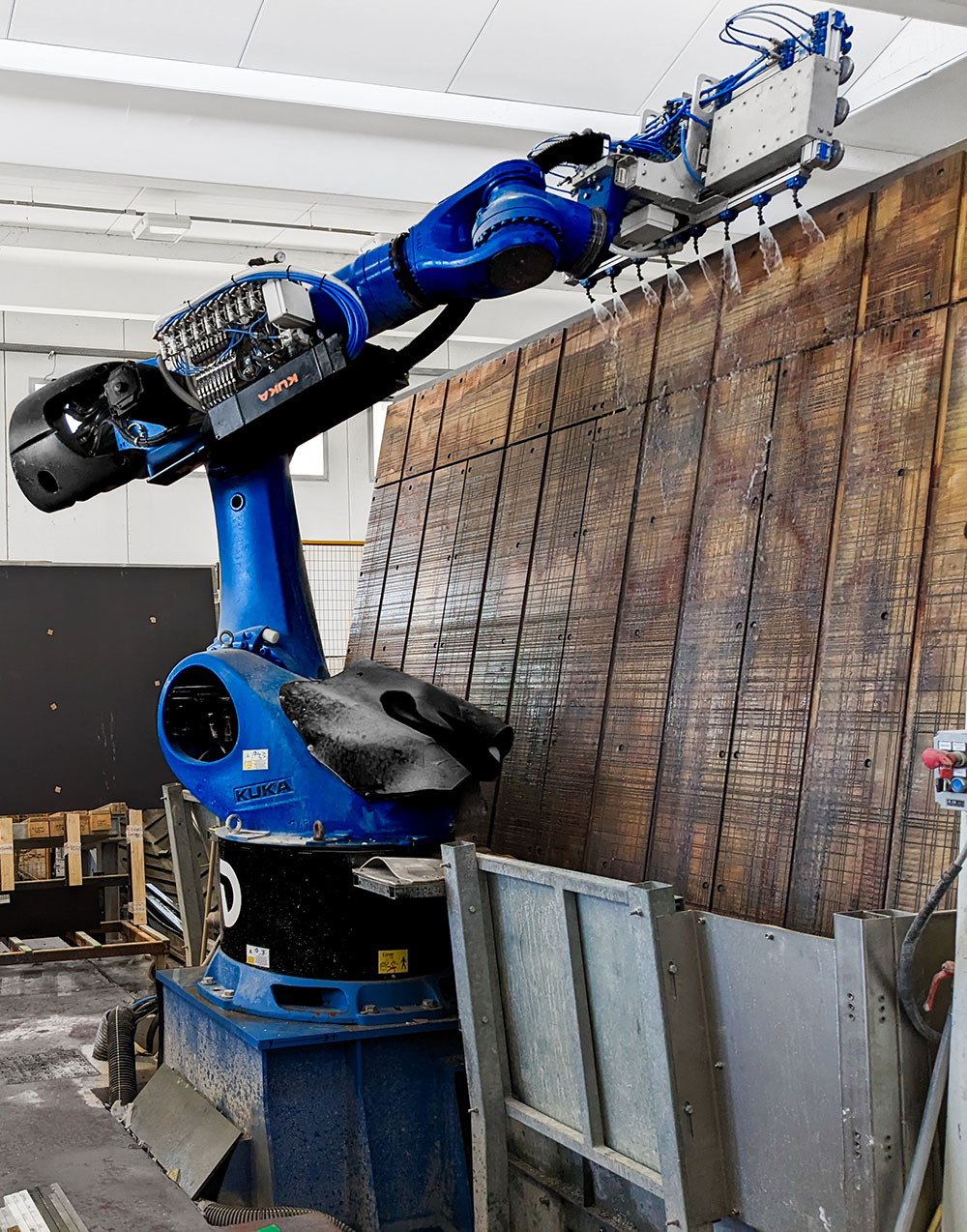 Machine unloading system (option)
Measurement/Quality Control
Thanks to this function, the workpieces are checked automatically during the production cycle. If flaws or imperfections are identified, the workpieces are timely rejected so that only high quality workpieces remain in the production flow.
Labelling
A user-friendly and efficient system labels each piece so as to simplify product management and traceability throughout the production process.
Ink jet marking
This option is used to mark each piece individually with a clear and legible marking. Each piece is thus easy to identify for efficient management.
Laser-controlled piece alignment
This feature is designed for precise piece alignment before the palletising process. This helps palletise the pieces in an accurate and orderly layout, which offers a tidy appearance, on one hand, and helps preserve the end product quality on the other.
Piece separation
Our automated system separates the pieces in an efficient and eco-compatible way. This function prevents chipping or scratching during the palletising process and safeguards the integrity of the pieces.
Workpiece drying system
We offer the possibility to incorporate a drying system so that the workpieces are ready for the next production step. This helps reduce the production times and keep the flow in the production line constant and smooth.
Automatic gripper changeover
Our robot can be fitted with an automatic gripper changeover system for easy conversion to different shapes and types of workpieces. This function enhances system versatility and its capacity to manage a wide range of productions.